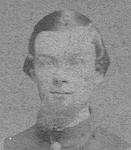 Federal (USV)
Lieutenant
James Miles Moore
(1837 - 1905)
Home State: Pennsylvania
Branch of Service: Infantry
About age 25, from Philadelphia, he enlisted and mustered as Private, Company G, 19th Pennsylvania Infantry for 3 months' service on 27 May 1861 in Philadelphia. He mustered out with his Company on 29 August and again enrolled, on 3 September 1861 and mustered as 2nd Lieutenant, Company A, 90th Pennsylvania Infantry on 10 March 1862. He was transferred to Company G and promoted to First Lieutenant to date from 10 March.
He was slightly wounded in the side in action at Antietam on 17 September 1862.
He resigned on 7 April 1863 to take a commission as First Lieutenant and Assistant Quartermaster (AQM) US Volunteers. He was promoted to Captain and AQM, US Army on July 1864. He was honored by brevets to Major and Lieutenant Colonel for his war service.
He continued in US Army service and was promoted to Major on 13 June 1867 and Lieutenant Colonel and Deputy Quartermaster General on 2 July 1883. He was appointed Assistant Quartermaster General and Colonel on 14 January 1895 and retired on 26 October 1901.
04/21/1905 Chicago, IL; burial in Arlington National Cemetery, Arlington, VA
Notes
1 Bates, Samuel Penniman, History of the Pennsylvania Volunteers, 1861-65, Harrisburg: State of Pennsylvania, 1868-1871 [AotW citation 11897]
2 Commonwealth of Pennsylvania, Adjutant-General, Pennsylvania Civil War Veterans' Card File, 1861-1866, Published <2005, first accessed 01 July 2005, <http://www.digitalarchives.state.pa.us/archive.asp?view=ArchiveIndexes&ArchiveID=17> [AotW citation 23417]
3 Heitman, Francis Bernard, Historical Register and Dictionary of the United States Army 1789-1903, 2 volumes, Washington DC: US Government Printing Office, 1903, Vol. 1, pg. 722 [AotW citation 23418]
4 Nelson, John H., As Grain Falls Before the Reaper: The Federal Hospital Sites and Identified Federal Casualties at Antietam, Hagerstown: John H. Nelson, 2004, pg. 326 [AotW citation 23573]