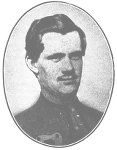 Federal (USV)
Private
James P. O'Neil
(c. 1845 - 1902)
Home State: Pennsylvania
Branch of Service: Infantry
A student at St. Michael's Seminary, Pittsburgh, he enlisted at age 17 in Company E, 155th Pennsylvania Infantry on 22 August 1862.
Camped at Young Ladies Seminary building in Urbana, MD on 16 September 1862. Noted for recording his name or other graffiti on the walls there.
He was a journalist for Pittsburgh newspapers. He died at the National Military Home in Dayton, OH in 1902.
1902; Dayton, OH; burial in St. Mary's Cemetery, Pittsburgh, PA
Notes
1 Porter, John T. , Financial Secretary, and Charles F. McKenna, compiler & editor, Under the Maltese Cross, Antietam to Appomattox, the Loyal Uprising in Western Pennsylvania, 1861-1865: Campaigns of the 155th Pennsylvania Regiment, Pittsburgh: 155th Regimental Association, 1910, pp. 68 - 76 [AotW citation 13566]
2 Bates, Samuel Penniman, History of the Pennsylvania Volunteers, 1861-65, Harrisburg: State of Pennsylvania, 1868-1871 [AotW citation 13624]