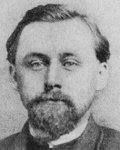 Federal (USV)
Sergeant
John A. Kribbs
(1836 - 1913)
Home State: Pennsylvania
Branch of Service: Infantry
He enlisted as First Sergeant in Company G, 155th Pennsylvania Infantry on 22 August 1862.
Promoted from First Sergeant to First Lieutenant on 10 January 1863. Slightly wounded at Petersburg, VA. Acting Regimental Quartermaster in late 1864. Mustered out 2 June 1865.
He attended the Evangelical Lutheran Seminary in Philadelphia, PA and later Pastored in Kittaning and Zelienople, PA.
03/03/1836; Clarion County, PA
10/03/1913; Zelienople, PA; burial in English Lutheran Church Cemetery, Zelienople, PA
Notes
1 Porter, John T. , Financial Secretary, and Charles F. McKenna, compiler & editor, Under the Maltese Cross, Antietam to Appomattox, the Loyal Uprising in Western Pennsylvania, 1861-1865: Campaigns of the 155th Pennsylvania Regiment, Pittsburgh: 155th Regimental Association, 1910, pp. 448 - 492 [AotW citation 13588]
2 Bates, Samuel Penniman, History of the Pennsylvania Volunteers, 1861-65, Harrisburg: State of Pennsylvania, 1868-1871 [AotW citation 13638]