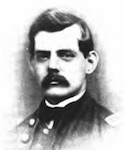 Federal (USV)
Lieutenant
Henry Winstanley Newton
(1835 - 1918)
Home State: Rhode Island
Branch of Service: Artillery
He mustered as a First Sergeant in Battery A, 1st Rhode Island Artillery on 6 June 1861 in Providence. He was commissioned 2nd Lieutenant on 12 September 1861, and was probably First Lieutenant by Antietam.
He was with his Battery at Antietam.
He resigned his commission on 22 November 1862.
1918; burial in Ancient Little Neck Cemetery, East Providence, RI
Notes
1 Dyer, Elisha, Annual Report of the Adjutant General of Rhode Island and Providence Plantations for the Year 1865 (corrected), 2 Volumes, Providence: E.L. Freeman & Son, 1893, Vol. 2, pg. 753 [AotW citation 18689]
2 Aldrich, Thomas M., The History of Battery A, First Regiment Rhode Island Light Artillery, in the War to Preserve the Union, 1861-1865, Providence: Snow & Farnham, Printers, 1904, pg. 141, opposite pg. 96 [AotW citation 18690]