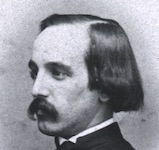 Federal (USA)
Assistant Surgeon
Alfred Alexander Woodhull
(1837 - 1921)
Home State: Kansas
Education: Princeton University (1856); U of Pennsylvania, School of Medicine, Class of 1861
Branch of Service: Medical
Unit: 2nd and 10th United States Infantry
see his Battle Report
He was commissioned Assistant Surgeon, US Army on 19 September 1861. He was medical officer of the 2nd US Infantry on the Peninsular Campaign of 1862. He was responsible for the care of the battalion of the 2nd & 10th Infantry and the 6th US Infantry regiment at Second Manassas in August.
He was near the field at Antietam during the action on 17 September and provided initial care to wounded soldiers.
He was honored by brevet to Captain, Major, and Lieutenant Colonel on 13 March 1865 for his war service.
He continued in the Regular Army and was promoted to Major and Surgeon on 1 October 1876. He was appointed Lt Colonel and Deputy Surgeon General, USA on 16 May 1894 and Colonel and Assistant Surgeon General on 8 October 1900. He retired on 13 April 1901 and was appointed Brigadier General on the retired list in 1904. He was also a lecturer at Princeton University.
04/13/1837; Princeton, NJ
10/18/1921 Princeton, NJ; burial in Princeton Cemetery, Princeton, NJ
Notes
1 Heitman, Francis Bernard, Historical Register and Dictionary of the United States Army 1789-1903, 2 volumes, Washington DC: US Government Printing Office, 1903, Vol. 1, pg. 1057 [AotW citation 19745]
2 Barnes, Joseph K., and US Army, Office of the Surgeon General, The Medical and Surgical History of the War of the Rebellion, 6 books, Washington DC: US Government Printing Office, 1870, Part. 1, Vol. 1, Appendix, pp. 73, 107, 128 [AotW citation 19746]
3 US National Library of Medicine, History of Medicine Division, Images from the History of Medicine, Published 2004, first accessed 01 February 2014, <http://www.nlm.nih.gov/hmd/ihm/>, Source page: /catalog/nlm:nlmuid-101416347-img [AotW citation 19747]