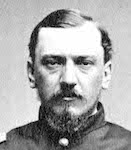 Federal (USV)
Major
William Dwight Sedgwick
(1831 - 1862)
Home State: Massachusetts
Education: Harvard University, Class of 1851
Command Billet: Staff Officer
Branch of Service: Staff
Unit: 2nd Division, II Corps
After Harvard he studied Law, including a period abroad in Germany and a year at Columbia. He then established a practice in St. Louis, Missouri.

He was commissioned First Lieutenant, 2nd Massachusetts Infantry on 25 May 1861. He was detailed to the staff of General Banks as Ordnance Officer, then appointed Captain and Assistant Adjutant General (AAG), US Volunteers 6 September 1861, on the staff of Brigadier General John Sedgwick. He was promoted to Major on 7 August 1862.
He was mortally wounded by a gunshot to his spine in action at Antietam on 17 September 1862.
"After eight hours he was found by friends and spent his last days in a farmhouse [field hospital in Keedysville] attended by his mother and sister. When he died on 29 September 1862, his wife Louisa [Tellkampf] was not present because she did not learn of her husband's condition until her arrival from Europe. He left behind three daughters: Grace, Amelia and Mary Elizabeth".
Basic information from Harvard1 and Soldiers2, with details from genealogies online. The quote above from introductory material to a collection of family papers at the Massachusetts Historical Society, Boston. The photograph from one posted by family genealogist Dennis Sedgwick. The original probably from the MOLLUS Massachusetts Collection3. Wound and hospital details from Surgeon Hard4 of the 8th Illinois Cavalry.

The General may literally have been his "Uncle John". His death date is September 27 in some sources. He's buried in the Sedgwick Pie - the family plot in Stockbridge Cemetery.
09/29/1862; Keedysville, MD; burial in Stockbridge Cemetary, Stockbridge, MA
Notes
1 Brown, Francis H., Roll of Students of Harvard University who Served in the Army or Navy of the United States During the War of the Rebellion, Cambridge: Harvard University, 1866, pg. 8 [AotW citation 6904]
2 Commonwealth of Massachusetts, Adjutant General, Massachusetts Soldiers, Sailors, and Marines in the Civil War, 8 Vols, Norwood (MA): Norwood Press, 1931-35, Vol. 2, pg. 98; Vol. 6, pg. 773. [AotW citation 6905]
3 US Army, Military History Institute (USAMHI), Military Order of the Loyal Legion of the United States (MOLLUS)-Massachusetts Photograph Collection, Published 2009, <http://cdm16635.contentdm.oclc.org/cdm/search/collection/p16635coll12/>, Source page: Vol. 93, pg. 4758 [AotW citation 14505]
4 Hard, Abner, History of the Eighth Cavalry Regiment, Illinois Volunteers, Aurora, IL: Abner Hard, 1868, pg. 186 [AotW citation 25316]