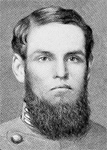 Confederate (CSV)
Lieutenant
Thomas Deans Boone
(1840 - 1921)
Home State: North Carolina
Education: Wake Forest College, Class of 1859
Branch of Service: Infantry
He was teaching in Mississippi at the start of the War and returned to NC to enlist as First Sergeant of Company F, 1st North Carolina Infantry on 5 May 1861. He was promoted to 2nd Lieutenant on 9 September 1862.
He was in action at Sharpsburg.
He was promoted to First Lieutenant on 19 November 1862, and wounded in action at Chancellorsville, VA in May 1863. He was appointed Captain on 29 July 1863, and again wounded, at Winchester, VA on 19 September 1864. After Spottsylvania he transferred with Colonel Brown to Rodes's Division Sharpshooters. He surrendered at Appomattox Court House on 9 April 1865.
He was again a teacher, until 1886 when he was elected Clerk of the Superior Court of Hertford County, a post he held for many years. He also contributed to a history of the Hertford Grays.
10/12/1840; Northampton County, NC
10/01/1921 WInton, NC; burial in Buckhorn Baptist Church Cemetery, Como, NC
Notes
1 Evans, Clement Anselm, editor, Confederate Military History, 12 Volumes, Atlanta: The Confederate Publishing Company, 1899, Vol. 4, pp. 394, 395 [AotW citation 10097]
2 Manarin, Louis H., and Weymouth Tyree Jordan, Matthew M Brown, Michael W Coffey, North Carolina Troops, 1861-1865 : A Roster, 20 Volumes +, Raleigh: North Carolina State Department of Archives and History, 1966- [AotW citation 19070]
3 Clark, Walter, editor, Histories of the Several Regiments and Battalions from North Carolina in the Great War, 1861-1865, 5 vols., Raleigh and Goldsboro (NC): E. M. Uzzell, Nash Brothers, printers, 1901, Vol. 1, before pg. 135 [AotW citation 10098]