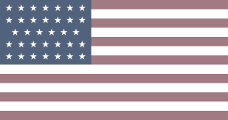 This detachment of two companies - A and D - of the 8th US Infantry were attached to the 2nd Battalion/12th US Infantry on the Maryland Campaign. Both companies under the command of 1st Lieutenant John N. Andrews.1

<! --- end of main body section with narratives--->

We have 0 individuals who were on the Maryland Campaign in the AotW database for this unit:
Co.
Rank
Name
Casualty?
Details

*
* If there's a symbol in the Details column ...



- We have a picture for this person


- We have details beyond name and rank
Click on their last name to see more

<! --- end of roster section --->
Notes
1 Reese, Timothy J., Sykes' Regular Infantry Division, 1861-1864: A History of Regular United States Infantry Operations in the Civil War's Eastern Theater, Jefferson (NC): McFarland&Company, Inc., 1990, pg. 386 [AotW citation 846]