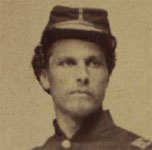 Federal (USV)
Captain
David Allen, Jr.
(1829 - 1864)
Home State: Massachusetts
Command Billet: Company Commander
Branch of Service: Infantry
From Gloucester, he bought a share in a ship - the schooner Sea Serpent - and was one of the crew that sailed her to San Fransisco, departing in November 1849 becoming part of the gold rush. By 1861 he was a builder and Selectman in Gloucester, and raised a company of volunteer soldiers in April at the outset of War. He enrolled on 19 April, and was commissioned and mustered as Captain of Company K of the 12th Massachusetts Infantry on 26 June 1861.
He succeeded Major Burbank in command of the Regiment on 17 September, and was seriously wounded in action there.
He was promoted to Lieutenant Colonel of the Regiment on October 1862. He was again wounded, at Fredericksburg in December, and commanded the Regiment at Gettysburg after Colonel Bates was hit. He joined the staff of Brigadier General Robinson (2nd Division 1st Corps) after Gettysburg on 13 July 1863. He was killed in action on 5 May 1864 in the Wilderness, Virginia.
05/05/1864; The Wilderness, VA
Notes
1 Pringle, James Robert, History of the Town and City of Gloucester, Cape Ann, Massachusetts, Gloucester: J.R. Pringle, 1892, pp. 111, 117 [AotW citation 1224]
2 Commonwealth of Massachusetts, Adjutant General, Massachusetts Soldiers, Sailors, and Marines in the Civil War, 8 Vols, Norwood (MA): Norwood Press, 1931-35, Vol. 2, pg. 61 [AotW citation 1225]
3 Cook, Benjamin F., and James Beale, History of the Twelfth Massachusetts Volunteers (Webster regiment), Boston: Twelfth (Webster) Regiment Association, 1882, pg. 149 [AotW citation 1226]
4 US Army, Heritage and Education Center (USAHEC), Military Order of the Loyal Legion of the United States (MOLLUS)-Massachusetts Photograph Collection, Published 2009, <https://arena.usahec.org/web/arena>, Source page: 5330 [AotW citation 1227]