Col William Harrow's Official Report
Report of September 19, 1862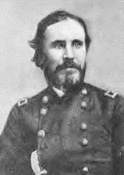 BATTLE-FIELD, NEAR SHARPSBURG, MD.,
September 19, 1862.
General KIMBALL,
Commanding First Brigade, French's Division, Sumner's Corps.
SIR: I report as follows:
On the morning of the 17th instant, in obedience to your order, my regiment moved forward on the right of the brigade, advancing rapidly toward the enemy, who were then engaging our line. We passed through an orchard, emerging into a plowed field, receiving during the execution of this movement a rapid fire from the enemy; this about 8 o'clock a. m. We ascended the hill in our front and occupied the crest, from which position we engaged the enemy, sheltered under ditches [the Sunken Road], rocks, and fences, with a large reserved force in a field of [Piper's] corn in their rear. The contest here continued for near four hours, during all which time the enemy poured upon us a terrific and murderous fire from infantry, also of grape and shell, thrown from a battery on our right and front. In our immediate front as many as eight stand of rebel colors were exhibited at a time.
My regiment went into the fight with 60 rounds of ammunition, and, after firing the last one, the enemy were discovered moving in heavy force upon my right flank. At this moment my own regiment and the Eighth Ohio Volunteers, Colonel Sawyer commanding, on my left, immediately changed their front, and formed at a right angle to our original line. The line thus formed was held and the enemy repulsed, our men using the ammunition taken from their dead and wounded commades. After 12 m. the enemy retired, and my regiment was not again engaged during the day, but lay upon their arms until night, under a hot fire of shot and shell from the enemy's batteries.
My officers and men without exception conducted themselves with a courage and daring seldom equaled and never surpassed. I cannot mention one without naming all. We went into the fight with 320 men, and lost in killed and wounded 181. A list of the names and rank of each is herewith furnished. My adjutant, J. J. P. Blinn, was with me during the day, and conducted himself as only a brave man can, bearing messages for me, and when not thus engaged remaining at my side witnessing the heroic conduct of his regiment. General, our record is a proud one, but one which can never be thought of save with feelings of the most intense sorrow for the brave dead and wounded.
Respectfully,
WM. HARROW,
Colonel Fourteenth Indiana Volunteers.
Source: OFFICIAL RECORDS: Series 1, Vol 19, Part 1 (Antietam - Serial 27) , Pages 328 - 329