Col Thomas T Munford's Official Reports
Reports of October 1862 on Operations September 4 - 20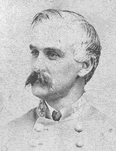 [ September 4 - 14 ]

[OCTOBER 16?], 1862.
MAJOR: .... [earlier material ommitted from report on the ORs] ... On the 4th [of September] I was ordered to take command of the brigade [Robertson's], then en route for Maryland. I joined General Stuart at Urbana, and, on the morning of September 8, I was ordered to Poolesville, with instructions to drive the enemy from that place. My advance guard had just entered the place when the enemy appeared in force, with three regiments of cavalry and four pieces of artillery. I selected an elevated position to the left of the town, and, as soon as they came within range, opened on them. In a few moments they replied with two heavy pieces, and at the same time advanced and drove in my pickets to the left and rear of my advance gun. Not knowing the country, and having had but a few moments' notice, I had some difficulty in extricating my guns, one a howitzer, the other a Blakely. The enemy charged up near the howitzer, but two rounds of canister sent them hurriedly back. Captain Myers, commanding the Seventh, charged them handsomely. They also charged the rifle piece supported by the Twelfth, when Colonel Harman repulsed them with some loss. A portion of his regiment behaved very badly. His loss was 8 men, killed, wounded, and missing. His regiment had been reduced by detail and other causes to about 75 men. Colonel Harman himself displayed great gallantry, and, had his command supported him, the result would have been different. Lieutenant-Colonel Burks, temporarily commanding the Second (all the field officers being was wounded), held the cross-roads and checked the enemy with his sharpshooters. In this skirmish Private P. H. Bird, of Company D, was killed, and Sergt. James W. Biggs, of Company C, badly wounded. For three days I held this cross-roads, skirmishing every day, guarding the Sugar Loaf Mountain.
On Thursday, the 11th, General Slocum advanced with his division and we fell back to a point 3 miles from Frederick City on the Buckeystown road. I may here state that the Sixth Virginia Cavalry, belonging to the brigade, having been left at Centreville to collect arms, &c., was not in Maryland with the brigade. The Seventeenth Battalion was on detached service, and on the 10th the Seventh Regiment was ordered to report to General Jackson. They did not again join the brigade until we recrossed into Virginia.
On the 12th we removed to Jefferson. At this point we remained until the next day, constantly skirmishing with the enemy's cavalry. The enemy's infantry pressing us on three roads, we fell back to Burkittsville. The enemy advanced on Jefferson by the Point of Rocks road, on the main road from Poolesville, and by a road over a gap which intersects the road leading to Middletown about 1 1/2 miles from Jefferson. We were pursued nearly the whole way to Burkittsville by their cavalry. We had the brigade train to protect. I kept them back with the sharpshooters of the Second Regiment, under Captain Holland, and hurried Colonel Harman's command on to Burkittsville to protect the road leading directly from Jefferson to that point. Captain [T. B.] Holland, finding himself heavily pressed and with a mere handful of men, made a dash at a regiment of the enemy's cavalry, driving them back with loss. In this skirmish Lieutenant T. A. Tibbs was wounded and Private James P. Abbitt, of Company B, killed.
Getting the train safely over Crampton's Gap, I placed three pieces of artillery in position and awaited their approach, which was momentarily expected. After they were repulsed by Captain Holland, General Hampton, coming in on their rear, drove the off. Not knowing that General Hampton was to come up on that road, and seeing a supposed enemy, I waited until they were in easy range before ordering the artillery to fire. General Hampton perceiving my intention, when the lanyard had been applied and nothing was required but the word "fire" to be given, a white flag appeared, and I found they were our friends.
We remained on the mountain that night, and the next morning received orders from General Stuart to hold the gap at all hazards. A report of what occurred at that place has already been forwarded.
I am, major, very respectfully, your most obedient servant,
THOMAS T. MUNFORD,
Colonel Second Virginia Cavalry.
[ September 14 - 20 ]
HEADQUARTERS ROBERTSON'S BRIGADE,
October 3, 1862.
Major J. T. W. HAIRSTON,
Assistant Adjutant-General.
MAJOR: I have the honor to report that on September 14 the enemy drove in my pickets at Burkittsville, and, in accordance with the orders received from Major-General Stuart, I assumed command at Crampton's Gap (as I was the senior officer), and instructed the officers commanding the two fragments of regiments (infantry) of Mahone's brigade to hold the post at all hazards. I posted the infantry behind a stone wall, at the base of the mountain, and running parallel with it; the artillery - Chew's battery and a section of the Portsmouth Battery (boat howitzers) - about half-way up the mountain, in the most eligible position I could find. I dismounted all the cavalry, and posted them on the right and left flanks. Finding that the artillery could not reach the enemy from the position selected, with effect, I retired the two rifle pieces to the crest of the mountain, and from that elevation poured an effective fire into their advancing columns. The enemy first advanced his skirmishers and made a demonstration as if he intended attacking the gap held by General Semmes, but, as both his and my artillery played upon him with effect, he retired and moved his whole force upon me. As soon as his skirmishers were deployed, he advanced one regiment of infantry in line of battle, which was immediately followed by four others. In half an hour five other regiments appeared on their left and advanced in the same way, and in a very short time another brigade appeared in rear of those who had preceded them. Soon after the skirmishing commenced, Colonel Parham, commanding Mahone's brigade, came up with two very small regiments (Sixth and Twelfth Virginia), scarcely 300 men, which he soon got in position. General Semmes certainly knew the condition of things as his artillery had been used, and he could see what was going on from his gap. I also sent dispatches to General Cobb, informing him of what was in front of us. For at least three hours this little force maintained their position against Slocum's division. (See General McClellan's dispatch of 16th.) After much delay, and some four couriers had been sent, General Cobb, with two regiments of his brigade, came up to my support. When the general himself came up, I explained the position of the troops, and of course turned over to him the command. At his request I posted the two regiments. The first troops, having exhausted all their ammunition, began to fall back as soon as their support came up, Colonel Parham having already partially supplied them with ammunition. When the other two regiments of General Cobb's brigade came up, he again requested me to put them in position, but they behaved badly and did not get in position before the wildest confusion commenced, the wounded coming to the rear in numbers and more well men coming with them. General Cobb attempted to rally the men, but without the least effect, and it would have been as useless to attempt to rally a flock of frightened sheep. Had General Cobb's brigade given the support to the first troops engaged which they deserved, the gap would have been held. The cavalry horses were on the road leading to Boonsborough, and, having previously retired the artillery on the Harper's Ferry road (every round of ammunition having been fired for some time before), I formed my command, and moved down the mountain, the infantry still running in great disorder on the Harper's Ferry road, followed a short distance by the enemy, who were then between them and the cavalry, who had to go for their horses. The enemy was at the forks of these roads before many of the cavalry, who were the last to give up their position.
The Second Virginia Cavalry lost 1 man killed (Peter Bird, Company D), and 2 men wounded.
Had General Cobb come up in time, the result might have been otherwise. There were two stone walls at the base of the mountain parallel to each other, and one commanding the other, which could have been held against great odds had the troops been in position.
It affords me great pleasure to commend Colonel Parham as a gallant and efficient officer; he did everything in his power to hold his position, and his little command fought splendidly.
Captain Chew used his guns with great coolness and effect, and his battery only retired when he had exhausted every round of ammunition. The guns of the Portsmouth Battery were of too short range to be effective.
The cavalry (Second and Twelfth) behaved splendidly under the fire they were placed, and did good service with their rifles.
Colonel Parham's loss must have been heavy, as they were a long time engaged, and the firing was as heavy as I ever heard.
I have the honor to be, major, very respectfully, your obedient servant,
THOMAS T. MUNFORD,
Colonel, Commanding Brigade.
[ Follow-up ]

MARCH 4, 1863.
Lieutenant General THOMAS J. JACKSON.
MY DEAR GENERAL: I was ordered off on a scout on Monday, and did not get back until Thursday, and the papers I sent for did not arrive until to-night. I can give a synopsis of our operations only, as I was first under General Ewell, then General G. H. Steuart, then General Ashby, then for a short time had the brigade myself, then under General Robertson, and frequently on detached service. I have omitted all from the time we started to Richmond until we returned and started from Waterloo Bridge.
The fight we had at Crampton's Gap was the heaviest I ever engaged in, and the cavalry fought here with pistols against rifles. I have sent my report to General Stuart, but cannot furnish it now until I hear from him, and do not know that it would amount to anything except to show you that your cavalry were not idle.
In Maryland we lived on green corn, principally, for both men and horses, and our valley campaign was one of constant toil.
I have failed to mention any of the officers who have won a good name by their gallant services. Captain R. P. Chew, as true as steel, and ever ready, deserves to be mentioned. Colonel O. R. Funsten is a noble man, and General Jones' brigade is second to none I have ever yet seen, in point of mettle.
Please accept my apology for the delay. I had sent in my report to Major-General Stuart, by his order, and would have sent them to you had I not been ordered to send them to him. I have lost my notes, as I did not think they would ever be called for again.
With my best wishes, I am, as ever, your friend and obedient servant,
THOMAS T. MUNFORD.

P. S. - General Stuart has my report of the Crampton's Gap fight, and, if you have not completed your Maryland campaign, I should like for you to see it, as several of my regiment sealed with their lives the love of country on that rugged mountain side.
[T. T. M.]
Source: OFFICIAL RECORDS: Series 1, Vol 19, Part 1 (Antietam - Serial 27) , Pages 825 - 828