Maj John A Harman's Official Report
Undated (1862) report of captured military equipment
Lieutenant-General JACKSON,
Commanding Second Army Corps.
LIST OF PROPERTY CAPTURED AND TURNED IN TO THE CHIEF QUARTERMASTER
VALLEY DISTRICT DURING THE SECOND AND THIRD QUARTERS.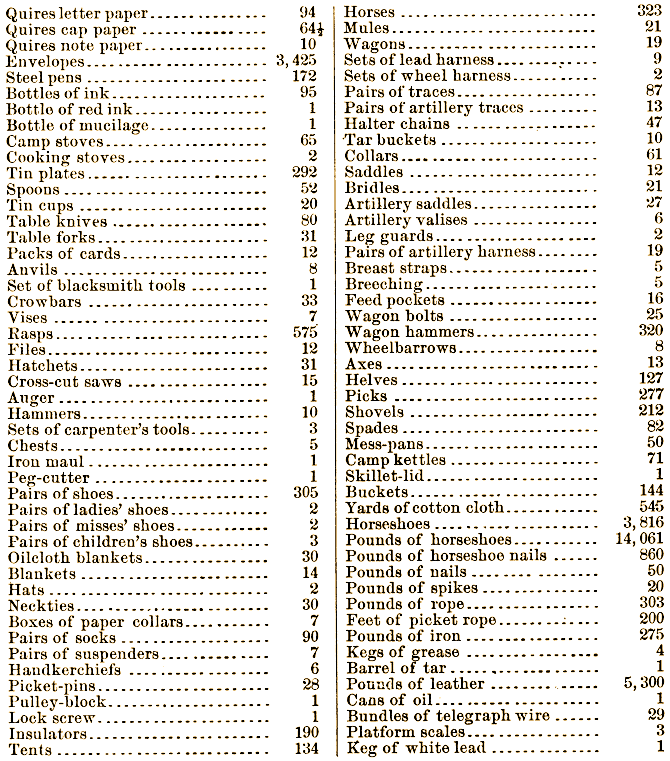 In addition to the above, which is a list of the captured property that came into my possession, a considerable amount came into the hands of the various quartermasters of the command, which, it is supposed, they have reported to Richmond. A large amount of the property captured, however, was not turned into the quartermaster's department at all, the order to turn over such property not having been fully carried out, especially by the cavalry. A very large amount of medical and ordnance stores were captured and sent off by me, for the character and amount of which I refer you to the heads of those departments. Throughout the corps many worn-out wagons were exchanged for good Yankee ones, the useless ones being left behind.
Very respectfully, your obedient servant,
JOHN A. HARMAN,
Major and Chief Quartermaster Second Corps.
Source: OR1
Notes
1 US War Department, The War of the Rebellion: a Compilation of the Official Records of the Union and Confederate Armies (OR), 128 vols., Washington DC: US Government Printing Office, 1880-1901, Vol. 19/Part 1 (Ser #27), pp. 960-961 [AotW citation 202]
&nbsp
&nbsp