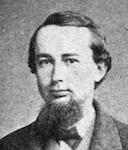 Federal (USV)
Sergeant
William Weaver Potts
(1838 - 1917)
Home State: Pennsylvania
Education: Pennsylvania State College
Branch of Service: Infantry
He'd spent a year at the Pennsylvania State College and was a 23 year old farmer from Swedeland when he enlisted on 20 April 1861 in Harrisburg for 3 months service as a Private in Company K of the 4th Pennsylvania Infantry. He mustered out with them at the end of his term on 21 July.

He helped organize a company of troops in Delaware County, took them to Harrisburg and was appointed 2nd Lieutenant, but the company was not accepted for war service. So he and most of his men enlisted on 6 August 1862 in West Chester in Company F, 124th Pennsylvania Infantry. He mustered as Sergeant on 11 August in Harrisburg.
He was wounded by a gunshot to his right foot in action in Miller's cornfield at Antietam on 17 September 1862.
He got to a field hospital in the rear and then rode in an ambulance with Colonel Hawley to a private home nearby, then to a hotel in Boonsboro. With the Colonel's help he changed to civilian clothes and, on 20 September, set off by wagon and train by way of Hagerstown and Chambersburg - where he got his first medical attention - to Harrisburg, where he reported to an Army hospital and resumed his uniform. He was discharged on a Surgeon's Certificate of disability on 10 February 1863.
He was a prominent farmer at Swedeland, PA and active in farm improvement. He was granted a patent for a portable farm fence in 1873. He was a school director in Upper Merion, member of the Norristown GAR post, a trustee of the Montgomery County Historical Society, and had an unsuccessful run for the state legislature in 1898.
Service information from Bates1 and the Register.2 His own narrative of the Campaign is in the History, source also of his picture. Personal details from a sketch in Ellwood Roberts' Biographical Annals of Montgomery County (Vol. 1, 1904), his death notice in the Reading Times of 9 August 1917, and T.M. Potts' Historical Collections Relating to the Potts Family in Great Britain and America (1901). His gravesite is on Findagrave.

He married married Ella Holstein (1850-1931) in 1870 and they had 5 children.
12/01/1838; Swedeland, PA
08/06/1917; Norristown, PA; burial in Montgomery Cemetery, Norristown, PA
Notes
1 Bates, Samuel Penniman, History of the Pennsylvania Volunteers, 1861-65, Harrisburg: State of Pennsylvania, 1868-1871 [AotW citation 11151]
2 Commonwealth of Pennsylvania, Adjutant General's Office, Register of Pennsylvania Volunteers, 1861-1865, 16 volumes, Harrisburg [AotW citation 23805]
3 Green, Robert McCay, compiler, History of the One Hundred and Twenty-fourth Regiment, Pennsylvania Volunteers in the War of the Rebellion 1862-1863, Philadelphia: Ware Brothers Company, printers, 1907, pp. 117-126 [AotW citation 23858]