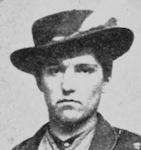 Federal (USV)
Private
William Wallace Brewer
(1843 - 1917)
Home State: Pennsylvania
Branch of Service: Infantry
A 17 year old laborer in Norwich, PA he gave his age as 18 and mustered into service as Private, Company I, 13th Pennsylvania Reserves on 30 May 1861 in Harrisburg.
He was wounded in action at Antietam on 17 September 1862.
He mustered out with his Company on 11 June 1864.
He lived in Norwich, Ridgway, Newton, and lastly, Mt. Jewett, PA. His occupation was listed as oil producer and gas operator at his death in 1917.
Service information from Bates1 and the Card File.2 His picture from a photograph in Bucktails.3 All these references have him as Wallace W. Brewer. Details from family genealogists and his wife's obituary. His gravesite is on Findagrave.

He married Orpha Amelia Horner (1843-1912) in April 1865 and they had two daughters, Nellie and Hettie.
03/02/1917; Mount Jewett, PA; burial in Norwich Cemetery, Colegrove, PA
Notes
1 Bates, Samuel Penniman, History of the Pennsylvania Volunteers, 1861-65, Harrisburg: State of Pennsylvania, 1868-1871 [AotW citation 11409]
2 Commonwealth of Pennsylvania, Adjutant-General, Pennsylvania Civil War Veterans' Card File, 1861-1866, Published <2005, first accessed 01 July 2005, <http://www.digitalarchives.state.pa.us/archive.asp?view=ArchiveIndexes&ArchiveID=17> [AotW citation 23003]
3 Thomson, O. R. Howard, and William H. Rauch, History of the "Bucktails", Kane Rifle Regiment of the Pennsylvania Reserve Corps (13th Pennsylvania Reserves, 42nd of the Line), Philadelphia: Electric Printing Co., 1906, after Appendix 2 [AotW citation 23004]