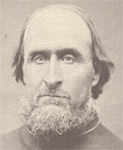 Federal (USV)
Private
Samuel Osborn
(1822 - 1900)
Home State: Michigan
Branch of Service: Infantry
Unit: 17th Michigan Infantry
From Medina, he enlisted in Company H, Seventeenth Michigan Infantry on 23 June 1862, at age 40.
He was wounded in action at Antietam on 17 September 1862.
He was discharged in Washington, DC on 15 June 1865.
Service data from the Adjutant General1. His photograph from one in the Archives of Michigan, found online on Seeking Michigan2, which also has his death certificate - source of further details.
07/29/1900; Ionia, MI; burial in Oak Hill Cemetery, Ionia, MI
Notes
1 State of Michigan, Office of the Adjutant General, and George H. Brown, Adjutant General; George H. Turner, Asst. AG, compiler, Record of Service of Michigan Volunteers in the Civil War, 1861-1865, 46 volumes, Kalamazoo: Ihling Bros. & Everard, 1904-1915, Vol. 17, pg. 79 [AotW citation 11991]
2 State of Michigan, Library and Archives, Seeking Michigan, Published 2008, first accessed 28 February 2010, <http://seekingmichigan.org/>, Source page: /cdm/singleitem/collection/p4006coll3/id/394/rec/576 [AotW citation 11992]