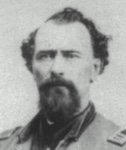 Federal (USV)
Captain
Elhanan C. Phetteplace
(1822 - 1889)
Home State: Michigan
Command Billet: Company Commander
Branch of Service: Infantry
Unit: 7th Michigan Infantry
From Tuscola, he enrolled as Second Lieutenant in Company I, Seventh Michigan Infantry at its organization on 28 June 1861. He was 38 years old. He was commissioned Captain on 2 September 1862.
He was wounded in action on 17 September 1862 at Antietam.
He was discharged from the 7th Infantry on 11 May 1863, for disability on account of wounds. He was appointed Captain, 8th Regiment Veteran Reserve Corps on 19 August 1863, and discharged 31 July 1866.
10/22/1822; Chenango County, NY
10/20/1889; Bear Lake Township, MI; burial in Maple Hill Cemetery, Walloon Lake, MI
Notes
1 State of Michigan, Office of the Adjutant General, and George H. Brown, Adjutant General; George H. Turner, Asst. AG, compiler, Record of Service of Michigan Volunteers in the Civil War, 1861-1865, 46 volumes, Kalamazoo: Ihling Bros. & Everard, 1904-1915, Vol. 7, pg. 82 [AotW citation 12007]
2 US Army, Adjutant General, Official Army Register of the Volunteer Forces, U. S. Army, 8 vols., Washington, DC: Adjutant General's Office, 1867, Part VIII, pg. 42 [AotW citation 12008]