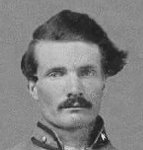 Confederate (CSV)
Lieutenant
Franklin Harrison Weaver
"Frank"
(c. 1840 - 1862)
Home State: North Carolina
Command Billet: Company Officer
Branch of Service: Infantry
A 21 year old student in Iredell County, he initially enlisted as Sergeant in June 1861 and was was commissioned 3rd Lieutenant, Company H, 4th North Carolina Infantry in July or August. He was promoted to 2nd Lieutenant in November 1861.
He was the last standing officer of the regiment in the Sunken Road and was killed there while leading the few survivors and waving the colors.
Service information from Moore's Roster1, Clark2, and his Compiled Service Records. His picture from one posted online by family genealogists and on the State Troops and Volunteers Facebook page, credit to Paul Weaver.
09/17/1862; Sharpsburg, MD
Notes
1 Moore, John Wheeler (compiler), and State of North Carolina, Roster of North Carolina Troops in the War Between the States, 4 volumes, Raleigh: Ashe & Gatling, State Printers and Publishers, 1882, Vol. 1, pg. 145 [AotW citation 1047]
2 Clark, Walter, editor, Histories of the Several Regiments and Battalions from North Carolina in the Great War, 1861-1865, 5 vols., Raleigh and Goldsboro (NC): E. M. Uzzell, Nash Brothers, printers, 1901, Vol. 1, pp. 247, 272 [AotW citation 1048]