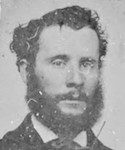 Federal (USV)
Captain
Allen Howard Zacharias
(1833 - 1862)
Home State: Michigan
Education: University of Michigan, Class of 1860
Command Billet: Company Officer
Branch of Service: Infantry
Unit: 7th Michigan Infantry
He had moved with his family from Maryland to Monroe, Michigan in 1840. After graduation he was a professor, then Principal of the State Military Institute, Brandon, Mississippi. In May 1861 he returned to Monroe and enlisted as a Corporal in the Seventh Michigan Infantry. He was appointed First Lieutenant of Company K on 25 June and its Captain on 10 March 1862. He first saw combat on the Peninsular Campaign of 1862.
He was mortally wounded in action on 17 September 1862 at Antietam.
He was treated at a hospital near the battlefield and then in Hagerstown, MD, where he was tended by relatives in the Loose and Zacharias families and later visited by his father and sister, but he died there of wounds on 31 December 1862. His body was returned home and buried next to his mother 3 days later.
Biographical details from a note written by the Captain, dated 28 June 1862. It was found on his body after his death, and is transcribed in Michigan in the War.1 His service from the Record.2 Hagerstown information from Nelson3 and Charles Lanman's The Red Book of Michigan: A Civil, Military and Biographical History (1871) [pages]. Personal details from the US Census of 1850 (which has him as Wm. H.A. Zacharias) and 1860 (as Allen Zacharias). His gravesite is on Findagrave, source also of his picture, from a photograph of unknown provenance contributed by user Marsteka. Thanks to J.O. Smith for the pointer to that.

His full name may have been William Allen Howard Zacharias (or similar). He was one of 8 brothers, at least one other, Alexander K. Zacharias, also served in the 7th Michigan.
05/15/1833; Clear Spring, Washington County, MD
12/31/1862; Hagerstown, MD; burial in Neriah Cemetery, Monroe County, MI
Notes
1 State of Michigan, Adjutant General's Office, and John Robertson, Adjutant General, Michigan in the War, Lansing: W.S. George & Co., State Printers, 1882, pp. 270-272 [AotW citation 1093]
2 State of Michigan, Office of the Adjutant General, and George H. Brown, Adjutant General; George H. Turner, Asst. AG, compiler, Record of Service of Michigan Volunteers in the Civil War, 1861-1865, 46 volumes, Kalamazoo: Ihling Bros. & Everard, 1904-1915, Vol. 7, pg. 117 [AotW citation 26828]
3 Nelson, John H., As Grain Falls Before the Reaper: The Federal Hospital Sites and Identified Federal Casualties at Antietam, Hagerstown: John H. Nelson, 2004, pg. 449 [AotW citation 26829]