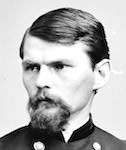 Federal (USA)
Captain
Emory Upton
(1839 - 1881)
Home State: New York
Education: US Military Academy, West Point, NY, Class of 1861;Class Rank: 8th
Command Billet: Chief of Artillery
Branch of Service: Artillery
Unit: 1st Division, 6th Corps Artillery
see his Battle Report
He graduated from the US Military Academy in May 1861 and was commissioned 2nd Lieutenant in the 4th US Artillery on the 6th and First Lieutenant a week later. He was aide-de-camp (ADC) to General Tyler at Blackburn's Ford, and saw action at First Bull Run in July 1861, where he was wounded, and on the Peninsula campaign and at the Seven Days in mid-1862.
He commanded the Artillery battalion of the First Division of the Sixth (VI) Army Corps in Maryland.
On 23 October 1862 he was appointed Colonel of the 121st New York Regiment, and led them at Fredericksburg. He commanded the 2nd Brigade/1st Division/Sixth Corps at Gettysburg, Mine Run, in the Wilderness, at Spotsylvania - where he was wounded again - and Cold Harbor. On 12 May 1864 he was appointed Brigadier General of Volunteers and commanded the 1st Division of the Sixth Corps in the Shenandoah campaign and at Opequon; wounded for the third time. He later commanded the 4th Cavalry Division under Wilson in Alabama and Georgia.

He was honored by brevets to Major in November 1863 (for Rappahannock Station, VA), Lieutenant Colonel in September 1864 (for Spotsylvania CH, VA), Colonel in September (for Winchester), and Brigadier and Major General in March 1865.
He was promoted to Captain, Fifth United States Artillery on 22 February 1865 and continued in Army service. He was appointed Lieutenant Colonel of the 25th US Infantry on 28 July 1866, transferred to the 18th US Infantry in March 1869, then to the First US Artillery in December 1870. He was Commandant of Cadets and Instructor of Artillery, Infantry, and Cavalry Tactics at the Military Academy from 1870 to 1875, toured Europe and Asia for two years evaluating foreign armies, then returned to duty with the 4th US Artillery on 16 March 1877. He was promoted to Colonel on 1 July 1880 and was in command of the regiment and the Presidio, San Francisco, CA at his death at 41 years old in 1881.

He died by suicide, possibly due to suffering from severe migraines or effects of a brain tumor. Details of his death and speculation about the cause are in a piece in the San Francisco Chronicle of 16 March 1861.
His service basics from Warner.1 Details from Cullum2 (his Cullum #1891), and Heitman.3 Carman4 and his own Report have him as a Captain at Antietam (though he was technically still a First Lieutenant, USA) - it's not clear how he came to hold that rank. His gravesite is on Findagrave. His picture from a photograph at the Library of Congress.

He wrote A New System of Infantry Tactics - "Upton's Tactics" (1867), Tactics for Non-Military Bodies (1870), Armies of Asia and Europe (1878), and The Military Policy of the United States from 1775, published posthumously by the Government Printing Office (1912).

He married Emily Norwood Martin (1846-1870) in February 1868.
03/14/1881; San Fransico, CA; burial in Fort Hill Cemetery, Auburn, NY
Notes
1 Warner, Ezra J., Generals in Blue, Lives of the Union Commanders, Baton Rouge, LA: Louisiana State University Press, 1964 [AotW citation 29444]
2 Cullum, George Washington, Biographical Register of the Officers and Graduates of the US Military Academy, 2nd Edition, 3 vols., New York: D. Van Nostrand, 1868-79, Vol. II, pp. 774-779 [AotW citation 29445]
3 Heitman, Francis Bernard, Historical Register and Dictionary of the United States Army 1789-1903, 2 volumes, Washington DC: US Government Printing Office, 1903, Vol. 1, pp. 978-979 [AotW citation 29446]
4 Carman, Ezra Ayers, and Dr. Thomas G. Clemens, editor, The Maryland Campaign of September 1862, 3 volumes, El Dorado Hills (CA): Savas Beatie, 2010-17, Vol. II, pg. 534 [AotW citation 29447]