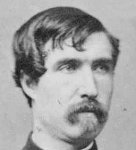 Federal (USV)
Sergeant
Joseph Wiley Gelray
(1837 - 1900)
Home State: Massachusetts
Branch of Service: Infantry
Born in England, he came to America at age 4. He was a printer in Lowell and in Richmond, VA. Giving his occupation as a weaver from Lowell, he enlisted as Corporal in Company A, 2nd Massachusetts Infantry at age 24 on 25 May 1861. Appointed Sergeant, date not given. Transferred to Company H on 22 December 1861.
He was wounded in the right shoulder and right thigh in action on 17 September 1862 at Antietam.
Commissioned 2nd Lieutenant on 25 December 1862. Wounded in action at Gettysburg, PA on 3 July 1863 and promoted First Lieutenant on 4 July. His right arm was amputated. Discharged from the 2nd Infantry and commissioned Captain, Company B, 57th Massachusetts Infantry on 19 October 1864. Mustered out 14 November, then Major, 4th Massachusetts Artillery on 7 December 1864. Mustered out 17 June 1865.
Honored by 2 brevets on 2 March 1867 to Major for Cedar Mountain, and Lieutenant Colonel for service at Gettysburg. Commissioned Captain, 45th US Infantry on 28 July 1866, but unassigned on 22 July 1869. By 1868 he was serving in Tennessee as inspector in the Freedman's Bureau. Retired on 15 December 1870. Was a member of the Union Club of Boston in 1892.
02/28/1837; Manchester, ENGLAND
03/10/1900; Boston, MA; burial in Arlington National Cemetery, Arlington, VA
Notes
1 Commonwealth of Massachusetts, Adjutant General, Massachusetts Soldiers, Sailors, and Marines in the Civil War, 8 Vols, Norwood (MA): Norwood Press, 1931-35, Vol. 1, pp. 74 - 80 [AotW citation 14401]
2 Heitman, Francis Bernard, Historical Register and Dictionary of the United States Army 1789-1903, 2 volumes, Washington DC: US Government Printing Office, 1903, Vol. 1, pg. 451 [AotW citation 14406]
3 Quint, Alonzo Hall, The Record of the Second Massachusetts Infantry: 1861-1865, Boston: James P. Walker, 1867, pp. 503 - 504 [AotW citation 14407]
4 US Army, Heritage and Education Center (USAHEC), Military Order of the Loyal Legion of the United States (MOLLUS)-Massachusetts Photograph Collection, Published 2009, <https://arena.usahec.org/web/arena>, Source page: Vol. 93, pg. 4761 [AotW citation 14507]