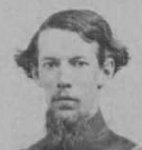 Federal (USV)
Lieutenant
William Latham Candler
(1839 - 1892)
Home State: Massachusetts
Command Billet: ADC
Branch of Service: Artillery
Unit: First Army Corps
He was a 20 year old merchant when he helped recruit and organize a volunteer Company in Brookline in April and May 1861. He was appointed First Lieutenant when they entered service as Company A, First Massachusetts Infantry on 28 May 1861. He was cited by brevet to Major for action at Fair Oaks, VA in June 1862. He joined General Hooker's staff prior to the Maryland Campaign - probably during the Peninsula Campaign of the Summer of 1862.
He was ADC to General Hooker, Federal First Army Corps at Antietam and carried orders under fire on the battlefield. He was later honored by brevet to Lieutenant Colonel for "gallant and meritorious service" there.
He was commissioned Captain and Aide de Camp, US Volunteers on 10 November 1862 and served on General Hooker's staff until he resigned his commission on 12 May 1863. He was appointed as aide to Massachusetts Governor Andrew, at the rank of Lieutenant Colonel, on 10 June 1864, and served to the end of the War.
He lived in Brookline or nearby for the rest of his life. By 1880 he was treasurer and manager of the Aspinwall Land Company. He was elected President of the Third Corps, Society of the Army of the Potomac in May 1892.
Service data from Heitman1 andSoldiers2. His photograph from one of several in the MOLLUS Massachusetts3 albums. His appointment to the Governor's staff from William Schouler's History of Massachusetts in the Civil War (Volume 1, 1868). Further details from family genealogists and the history of one of his residences from Back Bay Houses. He had married Francis (Fannie) Vaughan in August 1862.
A collection of his wartime letters are transcribed and in images online from a collection at Virginia Tech. A photograph of the Governor's staff in 1865, including Candler, is online from the Boston Athenaeum.
12/20/1892; Brookline, MA
Notes
1 Heitman, Francis Bernard, Historical Register and Dictionary of the United States Army 1789-1903, 2 volumes, Washington DC: US Government Printing Office, 1903, Vol. 1, pg. 280 [AotW citation 14651]
2 Commonwealth of Massachusetts, Adjutant General, Massachusetts Soldiers, Sailors, and Marines in the Civil War, 8 Vols, Norwood (MA): Norwood Press, 1931-35, Vol. 1, pg. 4; Vol. 6, pg. 758 [AotW citation 14652]
3 US Army, Heritage and Education Center (USAHEC), Military Order of the Loyal Legion of the United States (MOLLUS)-Massachusetts Photograph Collection, Published 2009, <https://arena.usahec.org/web/arena>, Source page: Vol. 96, pg. 4903 [AotW citation 14653]