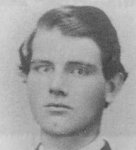 Federal (USV)
Sergeant
Edmond Gustave Fechet
(1844 - 1910)
Home State: Michigan
Branch of Service: Infantry
Unit: 7th Michigan Infantry
From Port Huron, he enlisted as Sergeant in Company A, Seventh Infantry on 19 June 1861 at Fort Wayne, for 3 years, age 18 (17).
He was wounded in action at Antietam on 17 September 1862.
He was appointed 2nd Lieutenant, Company H on 17 September, to date 1 September 1862. He was promoted to First Lieutenant, Company K on 1 May 1863. He was discharged for disability at Morrisville, VA on 31 July 1863. He reenlisted as Quartermaster Sergeant in the 10th Michigan Cavalry on 13 October 1863 in Detroit. He was made 2nd Lieutenant, Company M on 30 December and First Lieutenant on 21 December 1864. He was discharged on 21 November 1865.
He was commissioned 2nd Lieutenant, 8th US Cavalry on 28 July 1866. He received brevets to First Lieutenant and Captain on 2 March 1867 for action at Antietam. He was promoted to First Lieutenant on 31 July 1867 and Captain on 23 May 1870. He was appointed Major, 6th US Cavalry on 20 April 1891. He retired from the Army on 9 July 1898 and lived in Grand Rapids until 1900. He was Commandant of Cadets at the University of Illinois, at the rank of Lieutenant Colonel, USA, for the last 10 years of his life.
Basic information from State of Michigan1 and Heitman2. Details from his obituary in the The Alumni Quarterly of the University of Illinois (1910). His photograph from one in the MOLLUS Massachusetts Collection3. His son James Edmond Fechet (1877-1948) left the University of Nebraska and enlisted as Private in the 6th US Cavalry in 1898, was wounded on San Juan Hill, Cuba, was commissioned 2nd Lieutenant in 1900, and began flying in 1917. He was Major General and Chief of the Air Corps, US Army 1927-31.
07/11/1844; Port Huron, MI
11/16/1910; Champaign, IL; burial in Lakeside Cemetery, Port Huron, MI
Notes
1 State of Michigan, Office of the Adjutant General, and George H. Brown, Adjutant General; George H. Turner, Asst. AG, compiler, Record of Service of Michigan Volunteers in the Civil War, 1861-1865, 46 volumes, Kalamazoo: Ihling Bros. & Everard, 1904-1915, Vol. 40, pp. 60 - 61 [AotW citation 14668]
2 Heitman, Francis Bernard, Historical Register and Dictionary of the United States Army 1789-1903, 2 volumes, Washington DC: US Government Printing Office, 1903, Vol. 1, pg. 416 [AotW citation 14669]
3 US Army, Heritage and Education Center (USAHEC), Military Order of the Loyal Legion of the United States (MOLLUS)-Massachusetts Photograph Collection, Published 2009, <https://arena.usahec.org/web/arena>, Source page: Vol. 80, pg. 4049 [AotW citation 14670]