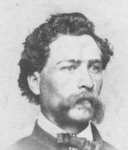 Federal (USV)
Captain
James John Carle
(1835 - 1892)
Home State: Pennsylvania
Branch of Service: Infantry
Age 25, from Wellsboro, PA, he was commissioned First Lieutenant, Company H, 6th Pennsylvania Reserve Corps on 22 April 1861. He was promoted to Captain on 1 November 1861.
He was wounded severely in the hand in action at Antietam on 17 September 1862.
He was commissioned Colonel of the 191st Pennsylvania Infantry on 6 June 1864 and mustered out with them on 28 June 1865 in Washington, DC. He was honored by brevet to Brigadier General of Volunteers on 13 March 1865.
04/26/1892; New York City, NY; burial in The Evergreens Cemetery, Brooklyn, NY
Notes
1 Nelson, John H., As Grain Falls Before the Reaper: The Federal Hospital Sites and Identified Federal Casualties at Antietam, Hagerstown: John H. Nelson, 2004, pg. 155 [AotW citation 17122]
2 Bates, Samuel Penniman, History of the Pennsylvania Volunteers, 1861-65, Harrisburg: State of Pennsylvania, 1868-1871 [AotW citation 19710]
3 Heitman, Francis Bernard, Historical Register and Dictionary of the United States Army 1789-1903, 2 volumes, Washington DC: US Government Printing Office, 1903, Vol. 1, pg. 282 [AotW citation 19711]