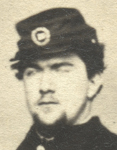 Federal (USV)
Private
John William Ogden
(1839 - 1902)
Home State: New Jersey
Branch of Service: Infantry
Unit: 13th New Jersey Infantry
He enlisted at age 24 in Company D, 13th New Jersey Infantry on 14 August 1862 and mustered as Private. He transferred to Company I on 25 August.
He was in action with his Company at Antietam on 17 September 1862.
He was wounded in the cheek in action at Chancellorsville, VA on 3 May 1863 and was treated at the Judiciary Square Hospital, Washington, DC. He transferred to the 33rd Company, 2nd Battalion, Veteran Reserve Corps on 31 January 1864. He then served in the office of the Judge Advocate, Twenty-second Army Corps. He was discharged 22 June 1865.
In 1870 he was a clerk in Newark, NJ, where he lived for the rest of his life. By 1879 he was a commercial traveller (sales representative). He was also a member of the "D" Society, a group of Company D veterans formed in December 1867. In April 1901 he was issued a US patent for a "safeguard for bottles containing poison".
Basic information from the D Society1 and Stryker.2 His VRC unit from the Soldiers and Sailors System.3 Details from from William Ogden Wheeler's The Ogden Family in America (1907). His picture with kind permission from a CDV posted on Flickr by Ron Coddington, from his collection. His gravesite is on Findagrave. He married Ann Eliza Markland on 18 August 1862, 4 days after enlisting. They had 4 children together.
See more about Ogden from Ron Coddington in a 2013 blog post on Faces of War.
10/17/1902; Newark, NJ; burial in Fairmount Cemetery, Newark, NJ
Notes
1 D Society, Veterans, Co. D 13th NJ Infantry, Historical Sketch of Co. D, 13th Regiment, N.J. Vols., Newark (NJ): D.H. Gildersleeve & Co., 1875, pg. 74 [AotW citation 17233]
2 State of New Jersey, Adjutant-General's Office, and William S. Stryker, Adjutant General, Record of Officers and Men of New Jersey in the Civil War, 1861-1865, 2 volumes, Trenton: John L. Murphy, Steam Book and Job Printer, 1876, pp. 642, 656 [AotW citation 17256]
3 US National Park Service, Department of the Interior, Civil War Soldiers and Sailors System, Published c. 1999, first accessed 01 January 2000, <http://www.itd.nps.gov/cwss/index.html>, Source page: /search-soldiers-detail.htm?soldierId=C2B116C0-DC7A-DF11-BF3 [AotW citation 17257]