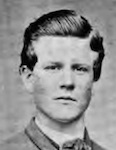 Federal (USV)
Private
John F. Leach
(1844 - 1914)
Home State: Rhode Island
Branch of Service: Artillery
About age 17, he mustered as a Musician in Company K, 2nd Rhode Island Infantry on 5 June 1861 and transferred as Private to Battery A, 1st Rhode Island Artillery on 28 July 1861.
He was battery guidon bearer and was noted for bravery under fire as he served as messenger from Captain Tompkins to General Sumner in action at Antietam on 17 September 1862.
He was detailed as Bugler to Battery B and was with them when he was wounded in action at Bristoe Station, VA on 14 October 1863. He then returned to Battery A, and mustered out with them on 17 June 1864.
03/18/1914; burial in Saint Francis Cemetery, Pawtucket, RI
Notes
1 Dyer, Elisha, Annual Report of the Adjutant General of Rhode Island and Providence Plantations for the Year 1865 (corrected), 2 Volumes, Providence: E.L. Freeman & Son, 1893, Vol. 2, pg. 751 [AotW citation 18691]
2 Aldrich, Thomas M., The History of Battery A, First Regiment Rhode Island Light Artillery, in the War to Preserve the Union, 1861-1865, Providence: Snow & Farnham, Printers, 1904, pp. 142, 254, 255, 404 [AotW citation 18692]