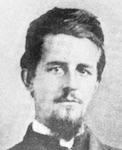 Federal (USV)
Private
James Alfred Meyers
(1841 - 1920)
Home State: Pennsylvania
Branch of Service: Infantry
Only a month later he was with his regiment in action on 14 September at Fox's Gap on South Mountain and later observed:
In going into this fight the surgeon and both assistants were with the regiment. This seemed to be considered the proper place for them. However, when the musketry fire opened and the air was full of uncomfortable sounds, Dr. Christ soon realized that - to use his own words - "It is too ---- hot here;" turning to the assistant surgeons, he ordered them to attend to the temporary dressings of the many wounded, sending them a little way down the mountain to a little log house where he established our field hospital. This was not entirely out of range, but on the whole better suited to the work that was in hand, and work it was, for our boys were hard hit. The loss in our regiment alone being about 140 killed and wounded.

The scenes in and about that little log house I cannot describe, but there is one impression gained there and on many subsequent fields that remains with me, and that is with what uncomplaining fortitude the boys bore their sufferings. Patiently they awaited the attention that was so necessary, and patiently and without a murmur they met the advance of death.

Our next engagement was three days later at Antietam. Here while the fighting was terrific and the losses of our army great, it was the great good fortune of our regiment to escape with a comparatively small list of killed and wounded, yet there was plenty of work for all.
He was appointed regimental Hospital Steward on 22 September 1862. He was on detached duty at the 2nd Division, 9th Corps Army hospital from May 1864 to the end of the year and was discharged on 26 May 1865.
By 1895 he was on the Board of the Columbia & Donegal and the Columbia & Ironville Street Passenger Railways. By 1916 he was an officer of the Columbia Water Works, and was listed as a retired bank president at his death in 1920 in Columbia.
Service basics from Bates.1 The quote above and his picture are from the regimental History 2 - thanks to Jake Wynn for the pointer to Meyers' essay in that volume. Personal details from family genealogists; at least one has his birthplace as Litltz, PA. His gravesite is on Findagrave. His name often also seen as James A Myers.

He married Anna M. Cowden (1843-1914) in 1868 and they had 3 children.
11/04/1920; Columbia, PA; burial in Mount Bethel Cemetery, Columbia, PA
Notes
1 Bates, Samuel Penniman, History of the Pennsylvania Volunteers, 1861-65, Harrisburg: State of Pennsylvania, 1868-1871, Vol. 1, pg. 1072 [AotW citation 22431]
2 Albert, Alan D., editor, and Comrades of the Regimental Association, History of the Forty-fifth Regiment, Pennsylvania Veteran Volunteer Infantry, 1861-1865, Williamsport (Pa): Grit Pub. Co., 1912, pg. 319, opposite pg. 317 [AotW citation 22432]