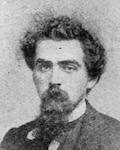 Federal (USV)
Private
John Pugh
(1838 - 1923)
Home State: Pennsylvania
Branch of Service: Infantry
Age 23, he enlisted on 4 August 1862 in Media and mustered as Private, Company D, 124th Pennsylvania Infantry on 9 August in Harrisburg.
He was wounded in the ear in action at Antietam on 17 September 1862.
He mustered out with his Company on 15 May 1863. He enlisted again, on 19 June 1863 as Corporal in Company I, 29th Regiment, Emergency Pennsylvania Militia of 1863 for the Gettysburg Campaign, and mustered out again on 1 August 1863.
1923; burial in Riverside Cemetery, Norristown, PA
Notes
1 Bates, Samuel Penniman, History of the Pennsylvania Volunteers, 1861-65, Harrisburg: State of Pennsylvania, 1868-1871 [AotW citation 23793]
2 Commonwealth of Pennsylvania, Adjutant General's Office, Register of Pennsylvania Volunteers, 1861-1865, 16 volumes, Harrisburg [AotW citation 23794]
3 Green, Robert McCay, compiler, History of the One Hundred and Twenty-fourth Regiment, Pennsylvania Volunteers in the War of the Rebellion 1862-1863, Philadelphia: Ware Brothers Company, printers, 1907, pg. 69 [AotW citation 23795]