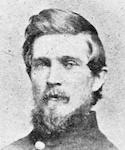 Federal (USV)
Lieutenant
Joseph G. Cummins
(1837 - 1887)
Home State: Pennsylvania
Branch of Service: Infantry
A 25 year old book binder and stationer on South Avenue in Media, he enlisted there on 1 August 1862 and mustered as First Sergeant, Company D, 124th Pennsylvania Infantry on 9 August in Harrisburg. He was promoted to 2nd Lieutenant on 16 August.
He was with his Company in action at Antietam on 17 September 1862. Two days later he wrote of it to his local newspaper:
We soon formed in line of battle, and on we marched to the front, bullets by hundreds whizzing past our heads. We marched, not knowing really where we were going. Our first position was lying down near a fence, and we were immediately under cross fire. From the position we were in it was strange that every man was not killed. After we discovered our position was wrong we fell back in good order (under the circumstances).
He was acting Regimental Quartermaster in October and November and mustered out with his Company on 16 May 1863. He was appointed Deputy Provost Marshal for Chester and Delaware Counties, PA and served to early 1865.
He returned to Media and ran his bookstore there to at least 1880; his wife took over and was still in business in 1900. He was Postmaster at Media for 3 years about 1866-69.
His service from the Register 1 and Bates.2 the quote above and other details are from the History,3 source also of his picture, from a photograph. Personal details from the Semi-centennial of the Borough of Media (1900), family genealogists, and the US Census for 1860-1880. His gravesite is on Findagrave.

He married Sarah J. Otley (b. 1838) in Philadelphia in 1858 and they had 4 children.
02/09/1837; Upper Providence (later Media), PA
Notes
1 Commonwealth of Pennsylvania, Adjutant General's Office, Register of Pennsylvania Volunteers, 1861-1865, 16 volumes, Harrisburg [AotW citation 23875]
2 Bates, Samuel Penniman, History of the Pennsylvania Volunteers, 1861-65, Harrisburg: State of Pennsylvania, 1868-1871 [AotW citation 23876]
3 Green, Robert McCay, compiler, History of the One Hundred and Twenty-fourth Regiment, Pennsylvania Volunteers in the War of the Rebellion 1862-1863, Philadelphia: Ware Brothers Company, printers, 1907, pp. 67, 156-157, 229-230; image after pg. 81 [AotW citation 23877]