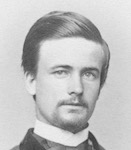 Federal (USA)
Assistant Surgeon
Thomas W. McMillin
(1841 - 1873)
Home State: Kentucky
Command Billet: Medical Purveyor
Branch of Service: Medical
Unit: Army of the Potomac
In 1860 he was a 19 year old student living with 32 year old physician Carr White McMillin (relative?) and family in Brooksville, Bracken County, KY. He was commissioned Assistant Surgeon, US Army on 19 August 1862.
He was Medical Purveyor of the Army of the Potomac on the Maryland Campaign of 1862.
As Medical Purveyor of the Army of the Potomac in 1862 and 1863 he contributed greatly by his efficient management of this important charge to the admirable medical service of the campaigns in which that army was engaged, and subsequently as surgeon in charge of the hospital transports "Baltic" and "J. K. Barnes" superintended the transfer of many thousand sick and wounded soldiers from various points at the south to northern hospitals, performing all his duties to the entire satisfaction of the Department. His excellent personal traits caused him to be as much beloved as he was officially respected.
In March 1865 he was honored by brevets to Captain and Major, USA for his service during the war.
He continued in US Army service and was brevetted again, to Lieutenant Colonel, USA for "meritorious and distinguished service during the outbreak of cholera among a detachment of recruits for the 8th Infantry en route from New York to San Francisco" on 13 March 1867. In 1870 was at Camp Independence, Inyo County, CA. In April 1873 at about 32 years old he
died of heart disease in the field while chief medical officer of the forces operating against the Modoc Indians in Oregon.
His service dates from Heitman.1. His role in Maryland from Duncan,2 as T.J. McMillin. The quotes above from Brown.3 Personal details from family genealogists, source also of his picture from a carte-de-visite shared Kelly Harrison Thomas, and the US Census of 1860 and 1870. His gravesite is on Findagrave.

Carr White McMillin (1823-1878) was Surgeon of the First Tennessee Infantry (US) from November 1861 to September 1864.
04/06/1873; Tulelake, CA; burial in Maysville Cemetery, Maysville, KY
Notes
1 Heitman, Francis Bernard, Historical Register and Dictionary of the United States Army 1789-1903, 2 volumes, Washington DC: US Government Printing Office, 1903, Vol. 1, pg. 678 [AotW citation 28760]
2 Duncan, Louis C., and Captain, Medical Corps, US Army, The Medical Department of the United States Army in the Civil War: unpublished collection, c. 1916, pg. 45 [AotW citation 28761]
3 Brown, Harvey E., The Medical Department of the United States Army from 1775 to 1873, Washington, DC: US Army Surgeon General's Office, 1873, pg. 261 [AotW citation 28762]