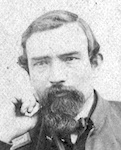 Federal (USV)
Captain
John W. Channing
(c. 1828 - 1899)
Home State: Maine
Branch of Service: Infantry
Unit: 7th Maine Infantry
In 1860 he was a 30 year old painter in Fairfield, ME. He enrolled there as First Lieutenant of Company E, 7th Maine Infantry on 16 August 1861 and was promoted to Captain, date not given, but probably by 21 August 1861.
He was with his Company in action at Antietam on 17 September 1862.
He transferred to Company K on 10 January 1863 and mustered out at the end of his term on 21 August 1864. He enrolled as Major of the First Maine Sharpshooters on 28 November 1864 and was discharged on 17 January 1865, having not actually mustered as Major. He was honored by brevet to Lieutenant Colonel on 13 March 1865.
In 1870 he was operating a billiard saloon in Fairfield, ME, and was deputy sheriff of Somerset County for Fairfield by 1877, but by 1880 was again a painter there.
His service from the Adjutant General1 and the Card File.2 His presence at Antietam from Major Hyde in his memoir.3 Personal details from family genealogists, the US Census of 1860-1880, and Public Documents of the State of Maine (1877); his military discharge of 1864 has his birthplace as Fairfield, ME. His gravesite is on Findagrave. His picture from a CDV at the Maine State Archives.

He married Martha E. Cilley (1827-1905) in November 1850 in Lowell, MA and they had 3 sons, the two later boys survived to adulthood.
08/24/1899; Augusta, ME; burial in Maplewood Cemetery, Fairfield, ME
Notes
1 State of Maine, Adjutant General's Office, and John L. Hodsdon, AG, Annual Report of the Adjutant General of the State of Maine for the Year ending December 31, 1862, Augusta: Stevens and Sayward, Printers to the State, 1863, Appendix D, pg. 264 [AotW citation 29228]
2 State of Maine, Maine State Archives, Civil War Soldiers and Sailors Card Index, 1861-1865, Augusta (ME): Department of the Secretary of State, c. 2000 [AotW citation 29229]
3 Hyde, Thomas Worcester, Following the Greek Cross or Memories of the Sixth Army Corps, Boston: Houghton, Mifflin and Company, 1894, pg. 104 [AotW citation 29230]