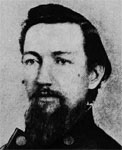 Federal (USV)
Colonel
Franklin Bailey Speakman
"Frank"
(1833 - 1900)
Home State: Pennsylvania
Command Billet: Commanding Regiment
Branch of Service: Infantry
He had been a store owner and hotel keeper before the War. He mustered as Captain, Company G of the new 133rd Infantry on 16 August, and was promoted Colonel on 21 August 1862.
He saw action in the assault on Marye's Heights in December at Fredericksburg, and again at Chancellorsville in May 1863. He mustered out with Regiment at the end of its 9-month term of service on 26 May 1863.
He opened the Speakman House hotel in Coatesville [photo] in 1867, and ran it for the rest of his life.
01/1833; Londonderry Township, PA
09/09/1900; Coatesville, PA
Notes
1 Bates, Samuel Penniman, History of the Pennsylvania Volunteers, 1861-65, Harrisburg: State of Pennsylvania, 1868-1871, Vol. 4, pp. 265, 275 [AotW citation 1064]
2 Porter, John T. , Financial Secretary, and Charles F. McKenna, compiler & editor, Under the Maltese Cross, Antietam to Appomattox, the Loyal Uprising in Western Pennsylvania, 1861-1865: Campaigns of the 155th Pennsylvania Regiment, Pittsburgh: 155th Regimental Association, 1910, pg. 807 [AotW citation 1065]