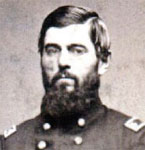 Federal (USV)
Lieutenant Colonel
James K Kerr
(1824 - 1876)
Home State: Pennsylvania
Command Billet: Regimental Lt Colonel
Branch of Service: Cavalry
Unit: 4th Pennsylvania Cavalry
He had been in law practice in Franklin before he volunteered for service, and was appointed Major at the organization of the 4th Pennsylvania Cavalry in October 1861. He was promoted to Lt. Colonel, 12 March 18621.
He succeeded to command of the Regiment as Col Childs led the Brigade.
He was promoted Colonel 18 September 1862 on the death of Colonel Childs. He resigned his commission 17 May 1863, for health reasons.
02/25/1876; Pittsburgh, PA; burial in Allegheny Cemetery, Pittsburg, PA
Notes
1 Bates, Samuel Penniman, History of the Pennsylvania Volunteers, 1861-65, Harrisburg: State of Pennsylvania, 1868-1871 [AotW citation 838]
2 Caldwell, J. A., History of Venango County Pennsylvania, and Incidentally of Petroleum, Columbus (OH): J.A. Caldwell, 1879 [AotW citation 839]
3 Hunt, Roger D., Colonels in Blue: Union Army Colonels of the Civil War - Mid Atlantic States, Mechanicsburg (PA): Stackpole Books, 2007 [AotW citation 840]
4 US Army, Military History Institute (USAMHI), American Civil War (ACW) photographs, Military History Institute Photograph Database, Published c. 1998, first accessed 01 January 2005, <http://cdm16635.contentdm.oclc.org/cdm/search/collection/p16635coll20/> [AotW citation 1094]