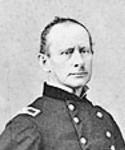 Federal (USV)
Colonel
Joseph Washington Fisher
(1814 - 1900)
Home State: Pennsylvania
Command Billet: Commanding Regiment
Branch of Service: Infantry
Unit: 5th Pennsylvania Reserves
see his Battle Report
He was a member of the Pennsylvania House of Representatives from 1848-49 and was admitted to the bar in Lancaster County in 1855. In April and May 1861 he recruited and was commissioned Captain of a volunteer Company in Columbia, the Cookman Rangers, who became Company K of the new 5th Pennsylvania Reserves. He was commissioned and mustered Lieutenant Colonel of the regiment on 15 May 1861. He was promoted to Colonel on 1 August 1862 after the death of Colonel Simmons.
He commanded the regiment in Maryland.
He commanded his Brigade at Gettysburg - the Third of the Pennsylvania Reserve Division, 5th Army Corps - but did not do well there on 2 July 1863. He mustered out with his regiment on 11 June 1864. He was Colonel of the 195th Pennsylvania Infantry from 24 July to 4 November 1864, and was brevetted Brigadier General of Volunteers for his war service on 4 November 1865.
He was a Pennsylvania State Senator 1866-68 and a Justice of the Wyoming territorial Supreme Court from 1871-79.
His service from Bates1 and Heitman.2 Details from a bio sketch in Sypher3 and the Political Graveyard. Thanks to Tom Elmore for the Chamberlain letter excerpts below, from the Bachelder Papers. His gravesite is on Findagrave. His picture from an 1865 Brady CDV sold by Cowan's Auctions in 2014.

He married Elizabeth R. Shearer (1817-1893) about 1840 and they had at least 5 children.

Although he claimed success at Gettysburg, Colonel Joshua Chamberlain of the 20th Maine Infantry disagreed:
I had no communication with Col. Fisher at all at Gettysburg. His regiments did not 'occupy' Round Top until I had been there at least three hours. Crawford's report is false in every particular. It was Genl. Sykes who told Col. Rice to occupy [Big] Round Top. ... It was quite dusk when Fisher came up and reported to Col. Rice for orders. ... When Sykes' order came, I heard Rice ask Fisher to make the movement to seize the crest (or western slope) of [Round Top]. He [Fisher] emphatically declined and I remember his saying that his men were armed with inefficient rifle 'smooth-bores' it seems to me he said, and especially that the ground was difficult and unknown to his men. He and his men also were much agitated. Rice turned to me and said, 'Colonel, will you do it?,' meaning as much I thought to rebuke Fisher who with a fresh brigade refused to undertake it, as he did to ask me to do it.

After I had fairly taken the crest of [Round Top], with several prisoners and with more loss to my own command and had formed a strong line in order to be secure against attack, one of Fisher's regiments, commanded by Col. Dare [commanding the 5th] came up moving by the flank ... Dare was trying to find me he said, as he was ordered to come to my support. I asked him to form on my right, but as he was 'right in front' his attempt to 'front' faced him to the rear and while I was trying to make them face about, the enemy, hearing the confusion, opened fire, and his regiment started like antelopes and went down the way they had come up on ...

-- Chamberlain to Colonel John B. Bachelder (1884).
10/16/1814; Northumberland, PA
10/18/1900; Cheyenne, WY; burial in Cheyenne City Cemetery, Cheyenne, WY
Notes
1 Bates, Samuel Penniman, History of the Pennsylvania Volunteers, 1861-65, Harrisburg: State of Pennsylvania, 1868-1871 [AotW citation 22726]
2 Heitman, Francis Bernard, Historical Register and Dictionary of the United States Army 1789-1903, 2 volumes, Washington DC: US Government Printing Office, 1903, Vol. 1, pg. 421 [AotW citation 22727]
3 Sypher, Josiah Rhinehart, History of the Pennsylvania Reserve Corps, Lancaster, PA: Elias Barr and Company, 1865, pp. 316-317 [AotW citation 22728]