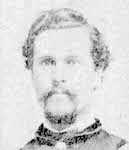 Federal (USA)
Captain
Matthew Marsh Blunt
(1830 - 1907)
Home State: New York
Education: US Military Academy, West Point, NY, Class of 1853;Class Rank: 8th
Command Billet: Commanding Battalion
Branch of Service: Infantry
Unit: 12th United States Infantry, First Battalion
see his Battle Report
Brevetted 2nd Lt 1st US Artillery on 1 July 1853 after graduation from West Point (his Cullum number is 1586);
Appointed 2nd Lt, 2nd US Artillery 30 Sept 1853;
Promoted to 1st Lt Mar 1855;
Was on the faculty at West Point 1855-59, teaching mathematics.
Appointed Capt, 12th US Infantry, 14 May 1861.
"...Camp at Tenallytown was broken on the 9th [of September, 1862], and the battalions, commanded respectively by Captains Blunt and Anderson, advanced through Rockville to Frederick, thence to Middletown, where bivouac was made on the 14th. Crossed South Mountain, 15th, to Porterstown, forming part of the advance. There was some harmless artillery fire in the evening.

During the first part of the 16th the enemy's artillery was somewhat annoying. At 5 P. M. the 1st Battalion was ordered to relieve the 4th Infantry in guarding the Antietam Creek bridge. This position was held until about noon of the 17th, when a force of cavalry and horse artillery was crossed. This drew a heavy fire from the enemy's artillery. The fire of sharpshooters being annoying to Tidball's battery, a skirmish line was thrown out under Captain Frederick Winthrop, which soon drove them back. Shortly after, the battalion was advanced in support of the battery. About 7 P. M. orders were received to [re]join the brigade [on the East bank of the Antietam].

The loss was 1 killed, and 3 wounded. The 2d Battalion was held in reserve during the entire action, and suffered no loss. General Alfred Pleasanton, commanding the cavalry division, spoke in high terms of the services rendered by the regular battalions in supporting his horse artillery. "

1
He was cited by three Brevets for gallantry at the battles of Malvern Hill (Major), Fredericksburg (Lt. Colonel), and Petersburg (Colonel).
Promoted Major, 7th US Infantry, 30 July 1865;
Transferred to the 14th Infantry 15 Mar 1869;
He was Commanding Officer at Fort Laramie (WY) April - June 1874, and was appointed Lt Col 25th Infantry 7 Oct 1874;
And Colonel, 16th Infantry, 3 July 1883.
He retired from Army service 13 Aug 1894.
Service details above from Heitman2 and a page on him at the Mathematics Department at the USMA. The photograph above is from the MOLLUS Collection at the US Army Military History Institute (USAMHI) - published by Tim Reese3.
08/30/1830; New York City, NY
05/14/1907; Brooklyn, NY; burial in West Point Cemetery, West Point, NY
Notes
1 Abbot, Charles W., Jr., and Theo F Rodenbough and William L. Haskin, eds., The Twelth Regiment of Infantry, Historical Sketches Of Staff And Line, New York City: Maynard, Merrill, & Co., 1896 [AotW citation 850]
2 Heitman, Francis Bernard, Historical Register and Dictionary of the United States Army 1789-1903, 2 volumes, Washington DC: US Government Printing Office, 1903 [AotW citation 851]
3 Reese, Timothy J., Sykes' Regular Infantry Division, 1861-1864: A History of Regular United States Infantry Operations in the Civil War's Eastern Theater, Jefferson (NC): McFarland&Company, Inc., 1990, pg. 135 [AotW citation 852]