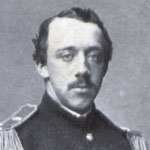 Federal (USA)
Lieutenant
John Hartwell Butler
(1838 - 1910)
Home State: Connecticut
Command Billet: Battery Commander
Branch of Service: Artillery
A druggist in Hartford before the War, he was appointed 2nd Lieutenant, 2nd US Artillery, on 22 May 1861 and promoted 1st Lieutenant on 10 June.
He commanded the battery at Gettysburg in July 1863, and suffered "loss of left foot from wound in line of duty" - probably near Culpeper in November. He was cited by brevet for gallantry at the battle of Glendale, Virginia (6/62: Captain) and action near Culpeper, Virginia (11/63: Major). He retired his commission on 7 February 1865.
He re-entered the Army in 1867, appointed Captain in the 42nd US Infantry on 22 January. He retired as Mounted Captain on 14 May 1870.
01/23/1910; Hartford County, CT; burial in Cedar Hill Cemetery, Hartford, CT
Notes
1 Heitman, Francis Bernard, Historical Register and Dictionary of the United States Army 1789-1903, 2 volumes, Washington DC: US Government Printing Office, 1903, pg. 269 [AotW citation 1173]
1 US Army, Heritage and Education Center (USAHEC), Military Order of the Loyal Legion of the United States (MOLLUS)-Massachusetts Photograph Collection, Published 2009, <https://arena.usahec.org/web/arena>, Source page: pg. 5010 [AotW citation 1174]
3 Higginson, Thomas Wentworth, Massachusetts in the Army and Navy during the war of 1861-1865, 2 vols., Boston: Wright & Potter Printing Co., State Printers, 1895-6, Vol. 2, pg. 405 [AotW citation 1175]
4 Goellnitz, Jenny, Draw the Sword: the Gettysburg Monument Project, Published 1998, first accessed 20 January 2001, <http://www.drawthesword.goellnitz.org/>, Source page: /2008/05/2nd-united-states-artillery-battery-g/ [AotW citation 1176]