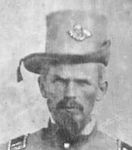 Confederate (CSV)
Captain
David Williams
(1821 - 1862)
Home State: North Carolina
Branch of Service: Infantry
A nearly 40 year old farmer in New Hanover County, he was the original Captain of Company K, 3rd North Carolina Infantry from its organization in May and June 1861.
He was mortally wounded in action at Sharpsburg on 17 September 1862 and died later the same day:
Captain Williams, known by his men as 'Pap,' as brave a man as ever lived, was disemboweled by a rifle shot from the enemy's batteries at Sharpsburg, and sleeps in a soldier's grave, with his blanket for a shroud, in the front yard of the house in rear of the village, which was used as a field hospital near the Shepherdstown pike.
Basic information from Moore1. Quote above from Colonel DeRosset in 1900 in Clark2. Further details and his photograph from Greg Mast in Company Front (Issue 1, 2016) [pdf], the journal of The Society for the Preservation of the 26th Regiment North Carolina Troops. Personal details from family genealogists. His gravesite is on Findagrave.

He married Sarah Love Holmes (1821-1862) in September 1846. She died "of grief" on 25 October 1862 leaving 5 orphan children.
06/06/1821; New Hanover County, NC
09/17/1862; Sharpsburg, MD
Notes
1 Moore, John Wheeler (compiler), and State of North Carolina, Roster of North Carolina Troops in the War Between the States, 4 volumes, Raleigh: Ashe & Gatling, State Printers and Publishers, 1882, Vol. 1, pp. 114 - 117 [AotW citation 6184]
2 Clark, Walter, editor, Histories of the Several Regiments and Battalions from North Carolina in the Great War, 1861-1865, 5 vols., Raleigh and Goldsboro (NC): E. M. Uzzell, Nash Brothers, printers, 1901, Vol. 1, pg. 228 [AotW citation 9777]