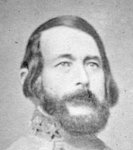 Confederate (CSA)
Colonel
Alexander Galt Taliaferro
(1808 - 1884)
Home State: Virginia
Education: William and Mary College
Command Billet: Commanding Regiment
Branch of Service: Infantry
Unit: 23rd Virginia Infantry
Before the War (1860 or earlier), he was Major of the 2nd Virginia Cavalry Militia. He was elected Lt Colonel and mustering officer of the 23rd Virginia Infantry as it was forming in May 1861. The unit's first commanding officer was Colonel William B. Taliaferro (1822-98). Col William B was wounded in action at Groveton (Va) in March 1862 , relieved by Lt Colonel Alexander G. in command of the Regiment, and was promoted to Brigadier General and then led the Brigade. Later Colonel Alexander was himself wounded at Second Manassas (28-30 Aug 1862) and relieved by Major Walton.
He is often listed in Orders of Battle in command of the Regiment at Sharpsburg, but was probably not present on the Maryland Campaign.
He commanded the post at Charlottesville, VA into 1865.
Service and other details from Rankin.1 His gravesite is on Findagrave. His picture from a photograph in the American Civil War Museum, Richmond.
Family geneologist Velma L. Parmerton notes online that his full name was John James Alexander Galt Taliaferro and his wife Agnes Harwood Marshall was grandaughter of Chief Justice John Marshall.

Thanks to David Spearman, for doing the research and Robert C. Moss, webmaster, both of the modern 23rd Virginia Infantry, for their work in making the history of the Taliaferros and the Regiment available on their excellent website.
9/1808; Churchill (Gloucester Co.), VA
6/29/1884; Culpeper County, VA; burial in Fairview Cemetery, Culpeper, VA
Notes
1 Rankin, Thomas M., 23rd Virginia Infantry, Lynchburg: H.E. Howard, Inc., 1985, rosters [AotW citation 22]
2 Taliaferro, Alexander Galt, Reminiscences, Southern Historical Collection, Chapel Hill: Manuscripts Department, Library of the University of North Carolina, 1878, pp. 1-11 [AotW citation 23]
3 Warner, Ezra J., Generals in Gray, Lives of the Confederate Commanders, Baton Rouge, LA: Louisiana State University Press, 1959, --- [AotW citation 24]