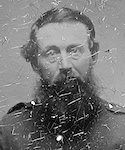 Federal (USV)
Captain
Rufus Washburn, Jr.
(1821 - 1913)
Home State: New York
Branch of Service: Infantry
Unit: 64th New York Infantry
He was a 21 year old blacksmith when he enlisted in the US Army on 23 January 1842 for a period of 5 years. He served as a Private in Battery C of the 4th United State Artillery until 3 June 1842, when he was listed as a deserter. By 1850 he was a farmer at Collins in Erie County, NY.

On 7 September 1861, by then age 40, he enrolled for war service at Gowanda. He was commissioned on 25 November and mustered as Captain, Company A, 64th New York Infantry on 10 December at Elmira. He briefly commanded the regiment as senior officer present on 30 May and 1 June 1862 at Fair Oaks, VA until he was wounded in action there.
He was wounded again, by a gunshot to his right shoulder at Antietam on 17 September 1862. He was admitted to US Army General Hospital #4 in Frederick, MD on 21 September but sent on to Washington, DC the next day.
By April 1863 he was Captain of Company H, but he resigned and was discharged for disability on 18 June 1863 in Washington, DC.
By 1865 he was again farming in Collins, NY. In 1900 he was boarding in Hanover, Chautauqua County, NY and he began receiving a veteran's pension in March 1903 for disability of his arm from his Antietam wound. In 1910 he was a boarder in North Collins.
Service information from State of New York1and the Registers,2 which have his birthplace as Depeyster, NY. Wound and hospital details from the Patient List,3 which has him of Company E. Personal details from family genealogists, the US Census of 1860-1910, NY State Census of 1865-1905, and his gravesite on Findagrave, which has his middle name as Putnam.

Thanks to great-great-grandson Pete Peterson for the nudge to look into Captain Washburn and for his excellent photograph.

Rufus married Olive D. Brayton (1821-1882) in 1840 and they had 5 children by 1856.
06/01/1913; North Collins, NY; burial in North Collins Quaker Meeting House Cemetery, North Collins, NY
Notes
1 State of New York, Adjutant-General, Annual Report of the Adjutant General of the State of New York [year]: Registers of the [units], 43 Volumes, Albany: James B. Lyon, State Printer, 1893-1905, For the Year 1901, Ser. No. 27, pg. 407 [AotW citation 7741]
2 US Army, Registers of Enlistments in the United States Army, 1798-1914, Washington, DC: National Archives, 1956, Vol. 043, pg. 259 [AotW citation 26355]
3 National Museum of Civil War Medicine, and Terry Reimer, Frederick Patient List, Published 2018, first accessed 17 September 2018, <http://www.civilwarmed.org/explore/primary-sources/databases/frederickpatient/>, Source page: patient #4, 271 [AotW citation 26354]