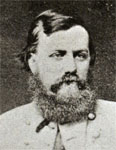 Confederate (CSA)
Lieutenant
Asher Waterman Garber
(1835 - 1912)
Home State: Virginia
Command Billet: Battery Commander
Branch of Service: Artillery
From Staunton, Asher was elected Brevet 2nd Lieutenant of the Staunton Artillery when it was formed in December 1859 - one of many units created in Virginia in response to the events at Harpers Ferry of that year.1 In the 1860 census he was a 25 year old machinist, and he enlisted for Confederate service as 2nd Lieutenant of the Staunton Artillery battery in April 1861. He was wounded at First Manassas in July but was back in service by September. He was elected 1st Lieutenant in April 1862, then commanded the Battery in action on the 7 Days Campaign and at 2nd Manassas.
He remained in command of the Battery on the Maryland Campaign, serving in the bombardment and capture of Harpers Ferry (10-15 September) and at Sharpsburg (17 September).
He was promoted to Captain and permanent command of the Battery 12 December 1862, and led them at Fredericksburg. He was off procuring horses at Staunton in the summer of 1862. He was present with the battery, including action at Gettysburg, until he was captured at Spottyslvania in May 1864, but he escaped and returned to duty. He was wounded at Leetown (Va) in September 1864 and spent a month in a Lynchburg hospital. He was assigned to Battalion command from November 1864 until wounded by a 'spent ball' at Sailor's Creek on 6 April 1865. He surrendered at Appomatox on 9 April 1865.
04/21/1912; Richmond, VA; burial in Hollywood Cemetery, Richmond, VA
Notes
1 Transcribed on the Valley of the Shadow website.
[staff writer], Staunton Artillery, The (Staunton) Vindicator, 1859-12-02, Pg. 2, Column 2 [AotW citation 56]
2 Ayers, Edward L., and William G. Thomas III, and Anne Sarah Rubin, co-editors, Valley of the Shadow, first accessed 07 June 2005, <http://valley.lib.virginia.edu/>, Source page: A. W. Garber [AotW citation 57]
3 Goolrick, WIlliam K, and Editors of Time/Life, Rebels Resurgent: Fredericksburg to Chancellorsville, Alexandria (Va): Time-Life Books, 1985, pg. 107 [AotW citation 822]