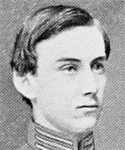 Confederate (CSV)
Lieutenant
John Frink Smith van Bokkelen
(1842 - 1863)
Home State: North Carolina
Education: Harvard College
Branch of Service: Infantry
He enrolled at Harvard from Wilmington, NC in 1859 (class of 1863), but left in early 1861 and returned South. He was commissioned 2nd Lieutenant, Company D, 3rd North Carolina Infantry on 16 May 1861. He was promoted to First Lieutenant on 25 April 1862.
He was acting Regimental Adjutant on the Maryland Campaign.
He was promoted to Captain of the Company to date from 17 September 1862. He was wounded in action at Chancellorsville, VA on 5 May 1863 and died in a hospital in Richmond, VA at age 21 on 22 June 1863.
03/29/1842; New Berne, NC
06/22/1863; Richmond, VA; burial in Oakdale Cemetery, Wilimington, NC
Notes
1 Moore, John Wheeler (compiler), and State of North Carolina, Roster of North Carolina Troops in the War Between the States, 4 volumes, Raleigh: Ashe & Gatling, State Printers and Publishers, 1882, Vol. 1, pg. 92 [AotW citation 9775]
2 Clark, Walter, editor, Histories of the Several Regiments and Battalions from North Carolina in the Great War, 1861-1865, 5 vols., Raleigh and Goldsboro (NC): E. M. Uzzell, Nash Brothers, printers, 1901, Vol. 1, pg. 177 [AotW citation 9776]