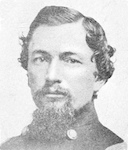 Federal (USV)
Captain
Charles Hatch Long
(1834 - 1908)
Home State: New Hampshire
Education: Norwich University, Class of 1855
Command Billet: Commanding Company
Branch of Service: Infantry
A farmer in Claremont, he was appointed State drill master in April 1861. After training the first 4 New Hampshire regiments, he enlisted as Private, Company G, 5th New Hampshire Infantry on 6 September 1861 and was commissioned Captain on 12 October 1861.
He and Captain Cross (Co. K) took their Companies across the Middle Bridge on 16 September 1862 on a mission to destroy the mill dam downstream and lower the level of Antietam Creek. They were unsuccessful due to a lack of tools. Captain Long was severely wounded in the arm in action the next day at Antietam.
He returned home to recover and resigned his commission on 6 November 1862. He was Lieutenant Colonel of the 17th New Hampshire Infantry for State service from 23 October 1862 to 16 April 1863. He was commissioned Captain, Company H, First New Hampshire Heavy Artillery the next day. He served with them at Portsmouth, NH and in the defenses of Washington, DC from May 1864. He was commissioned Colonel on 12 November 1864 and commanded his Brigade to their muster-out on 15 June 1865.
He was station agent for the Boston & Maine Railroad at Claremont from 1865 to his retirement in 1903.
See more about Long and a pair of fine CDVs of him as Lt. Colonel of Infantry and Colonel of Artillery, online from collector Dave Morin.
03/14/1834; Claremont, NH
05/31/1908; Claremont, NH; burial in Union Cemetery, Claremont, NH
Notes
1 Child, M.D., William, A History of the Fifth Regiment New Hampshire Volunteers, Bristol (NH): R.W. Musgrove, Printer, 1893, Part II, pg. 114 [AotW citation 10174]
2 Carman, Ezra Ayers, and Dr. Thomas G. Clemens, editor, The Maryland Campaign of September 1862, 3 volumes, El Dorado Hills (CA): Savas Beatie, 2010-17, Vol. II, pg. 24 [AotW citation 10175]
3 Ellis, William Arba, compiler and editor, and MGen. Grenville Mellen Dodge, publisher, Norwich University, 1819-1911; Her History, Her Graduates, Her Roll of Honor, 3 Volumes, Montpelier: The Capital City Press, 1911, Vol. 2, pp. 156-157 [AotW citation 21814]