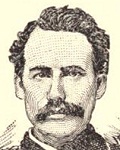 Federal (USA)
Sergeant
John Mitchell
(c. 1834 - 1869)
Home State: Unknown
Branch of Service: Artillery
He enlisted in Battery B, 4th US Artillery as a Private on 22 June 1853. He was a Corporal of the Battery by the Autumn of 1861, and First Sergeant by Antietam.
Cited for bravery at Antietam by battery commander Lt. Stewart in his Report.
He was promoted to 2nd Lieutenant on 10 August 1863 and First Lieutenant on 13 October 1865.
He was honored by brevets to First Lieutenant on 18 August 1864 (for Weldon Railroad) and to Captain on 29 March 1865 (for operations against Petersburg). He continued in Regular Army service and was appointed Captain in the 43rd US Infantry on 28 July 1866. He transferred to the First US Infantry on 8 April 1869.
See more about the circumstances of his death in a Congressional Report of May 1882 in support of a pension for his widow Lizzie.
11/13/1869; Ft. Leavenworth, KS
Notes
1 US War Department, The War of the Rebellion: a Compilation of the Official Records of the Union and Confederate Armies (OR), 128 vols., Washington DC: US Government Printing Office, 1880-1901, Series 1, Vol 19, Part 1 (Serial 27), pp. 229 - 231 [AotW citation 10486]
2 Heitman, Francis Bernard, Historical Register and Dictionary of the United States Army 1789-1903, 2 volumes, Washington DC: US Government Printing Office, 1903, Vol. 1, pp. 716 - 717 [AotW citation 10496]
3 Buell, Augustus, The Cannoneer: Recollections of Service in the Army of the Potomac, Washington: The National Tribune Company, 1890, frontpiece [AotW citation 10497]