Burials on the Antietam Battlefield
The Elliott Map, Segment 12
Click on a white oval area to jump to a page with more information about that person or unit.
The white arrows will take you to neighboring map segments.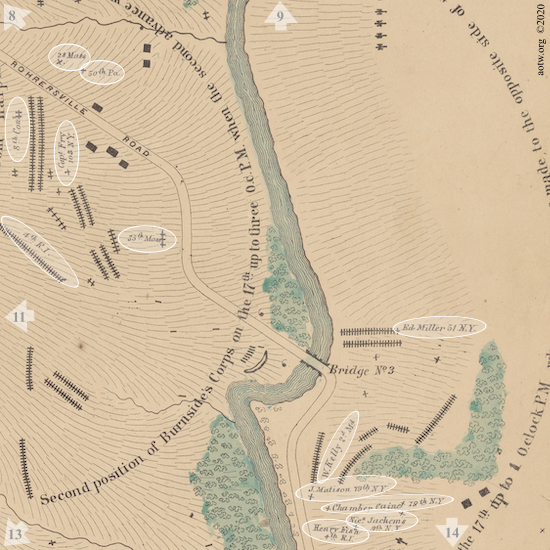 Notes for this map segment:
"Capt. Fry 103 N.Y." - I have not found a Captain Fry killed at Antietam. This is probably Corporal Friedrich Frey, Company D.
"J. Matison 79th N.Y." - is Private James Mathieson, Company C.
"Chamber Cainet 79th N.Y." - there were 7 soldiers of that regiment killed or mortally wounded at Antietam, but none of their names even resemble this one. There is no one with this or similar name anywhere among the known soldiers who died at Sharpsburg, or in the roster for any unit at Antietam, as far as I can tell.
"Nic's Jachems 9th N.Y." - is Private Nicholas Jachum, Company E.
See more about ... this and the other maps on AotW