Burials on the Antietam Battlefield
The 1864 Elliott Map
In 1864, building on information collected by others, civil engineer Simon G. Elliott documented the locations of more than 5,800 soldiers' burials on the battlefield of Antietam on a map. His similar work for burials at Gettysburg has long been known, but a copy of his Antietam map lay largely unnoticed in the New York Public library for many years until library staff digitized the map and made it available online between 2015 and 2018.
In June 2020 Gettysburg researchers Tim Smith and Andrew Dalton were looking into Elliott, came upon this map, and brought it to the attention of other historians and the public.
I've broken my copy into segments, each covering about 3/4 of a mile on a side, to make it a little easier for you to explore and make sense of this huge map.
And there is much to see here. I expect you'll easily be able to tell where the largest number of soldiers died, by their burial places, and will probably better appreciate just how many of them there were. You may also be surprised to see how many horses were killed in the battle.
49 individual soldiers and 32 regiments are identified on the map. I have highlighted them in white and linked each one to a page here on Antietam on the Web so you can get more information about them.
Select a part of the map to view by clicking in one of the 14 squares below.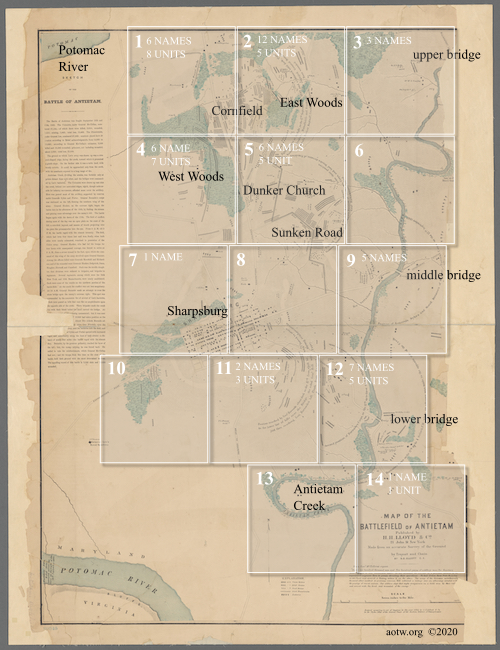 See more about ... this and the other maps used here on AotW.
Maps available: