Antietam Campaign Map for
8 September 1862
McClellan Probes Lee's Monocacy Line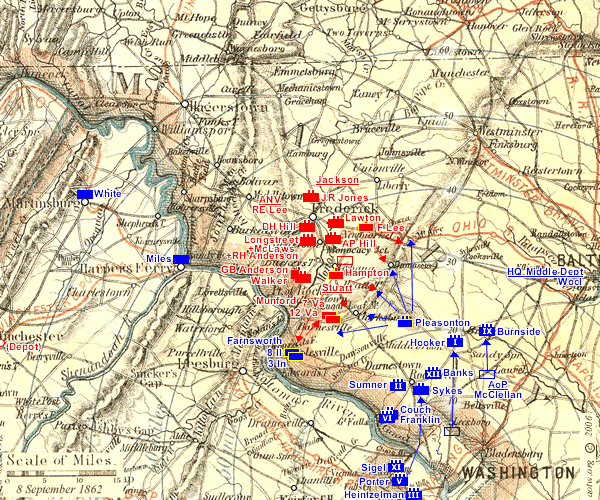 The Situation on 8 September: General Lee consolidates his defensive position south and east of Frederick on the line of the Monocacy River, allocating artillery, but resting most of his troops. His engineers blow up the B&O bridge over the Monocacy.

Also on this day, Lee issues his proclamation to the people of Maryland at Frederick, explaining his reasons for being in the state, and encouraging the citizens to "throw off the yoke" of Federal control. He is met with little enthusiasm.

His cavalry is screening the Army of Northern Virginia from the patrols of the Federal Cavalry under Pleasonton, now probing from Poolesville in the southwest to Damascus and Unity to the northwest.

There is significant combat between cavalry units as Munford attempts to recover Poolesville early in the day, but is repelled, then taking up station near Sugar Loaf Mountain, now the far end of the Confederate line. Near midnight there is a sharp skirmish at Hyattstown - action which temporarily interrupts General Stuart's famous ball at Urbana.

Meanwhile, General McClellan pushes his right wing, the First and Ninth Corps of Infantry, another 10 miles north and east to Brookeville, and brings Sykes' Division of US Regulars across the Potomac to Rockville, where he had established his new headquarters in the field.
Units on this Map: